The Krishi Vigyan Kendra (ICAR-VPKAS) is a grass root level institution designed and devoted to impart need-based and skill-oriented vocational trainings to the practicing farmers, in-service extension personnel and to those who wish to start in for self-employment through "learning by doing". This Kendra was established on 24 December, 2004 keeping in mind to accelerate the agricultural production and also to improve the socio-economic conditions of the farming community of Uttarkashi district.
The KVK is located at Chinyalisaur in the Uttarkashi District of Uttarakhand at Rishikesh- Gangotri National Highway (NH-34) about 169 Kilometers from Rishikesh and 120 Kilometers from Dehradun, the state capital. The elevation of Chinyalisaur is 755 meters above mean sea level. The KVK is located at 300 20'N latitude and 770 49' E longitude.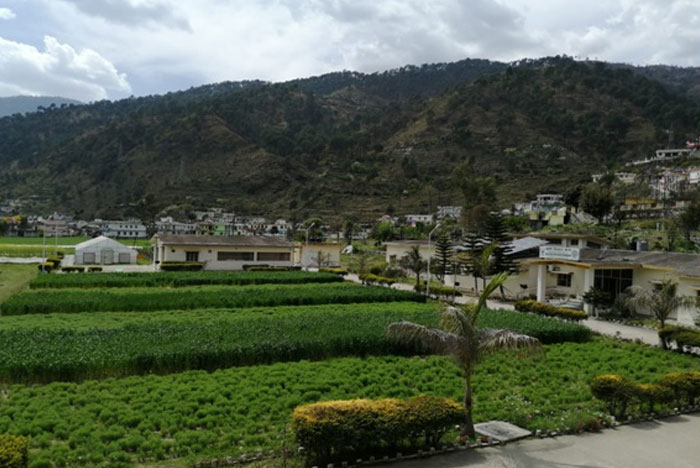 Infrastructure facilities and services available in KVK, Uttarkashi



Farmers Hostel: The KVK has well furnished farmers hostel which accommodates farmers and farm women during on-campus training.




Exhibition hall: Facilitates the educational visits of the farmers, students and extension workers and other officials.




High Density Orchards: KVK has established Four High Density Orchards of
      a. 47 plants of Nectarine var. Snow queen in 100 m2,
      b. 40 plants of Mango var. Aamrpali in 360 m2,
      c. 82 plants of Guava var. Pant Prabhatin500 m2,
      d. 09 plants of Apple var. Anna in 80 m2




Hi-tech polyhouse: Two hi-tech polyhouses having area of 180 m2 and 160 m2 are used for production of seed and seedlings of different vegetables. This unit is also used for varietal evaluation of off season vegetables.




Dairy Demonstration Unit: The KVK has well equipped dairy farm with cattle and crossbreds which is used for training in various aspects of livestock management to the participants.




Rain Water Harvesting unit: One Rain Water Harvesting unit was constructed for harvesting the rain water from roof of KVK buildings. The size of the tank is 100 m3 (12x8m from top and 9x5 in bottom whereas the depth of the tank is 1.5m.). The capacity of the tank is 1 Lakh liter.




LDPE tanks: KVK Uttarkashi has constructed four small LDPE tanks sized 4m x 3m x 1.5m for demonstration of life saving irrigation in vegetables forrainfed areas.




Soil Testing and Home Science Lab: In Soil testing mini lab testing of macro and micro nutrients (pH, EC, OC, N, P, K, S, Zn, Cu, Fe, B & Mn) is done. During 2017-18, KVK Uttarkashi has analyzed and tested a total 168 soil samples and 439 soil health cards were generated covering 69 villages in the district in which the remedial measures according to soil fertility. KVK is also equipped with sewing machines and electronic appliances to conduct practical classes in different aspects of home science training.




Vermi Composting Unit: Five units of vermin-compost are established for demonstration and utilization of compost in KVK farm as well as in farmers' field.




Mushroom Unit: KVK Uttarkashi has established one mushroom demonstration unit in which demonstration of seasonal mushrooms like Button and Dhingri mushroom is done for farmers. Trainings and demonstrations for farmers is done through this unit.